The modular design of the M15/M16 system platform ensures maximum flexibility for the MOBOTIX thermographic camera.
The M15-Thermal comes standard with a thermal image sensor and a dummy module (to remain weatherproof to IP66).
In addition, it is possible to use any MOBOTIX sensor modules (6 MP, color or black and white, telephoto to Hemispheric,
with or without long-pass filter/LPF) in the M15/M16 Thermal for identification.Camera software is then used to activate the dual image display on one of the two image sensors (thermal or standard) or both simultaneously.
การออกแบบโมดูลาร์ของระบบ M15 / M16 ช่วยให้มั่นใจได้ว่ากล้อง MOBOTIX มีความยืดหยุ่นสูงสุด
M15-Thermal มาพร้อมกับเซ็นเซอร์ตรวจจับความร้อนและโมดูลดัมมี่ (เพื่อให้ทนต่อสภาพดินฟ้าอากาศเป็น IP66)
นอกจากนี้ยังสามารถใช้โมดูลเซ็นเซอร์ MOBOTIX ได้ (6 MP, สีหรือขาวดำ, telephoto to Hemispheric,
มีหรือไม่มีตัวกรอง/ LPF) ใน M15 / M16 Thermal สำหรับการระบุตัวตน ซอฟต์แวร์กล้องจะใช้เพื่อเปิดใช้งานการแสดงผลภาพคู่(ภาพความร้อนหรือภาพมาตรฐาน) หรือทั้งสองอย่างพร้อมกัน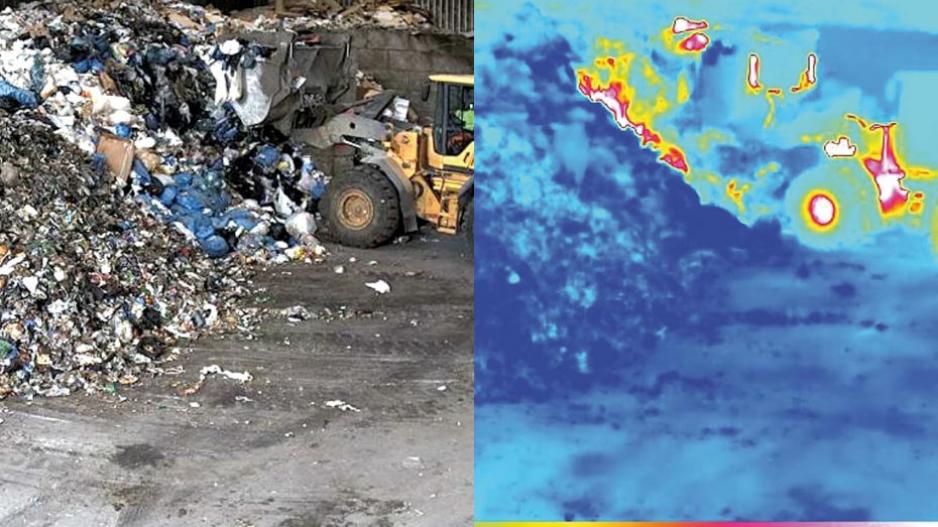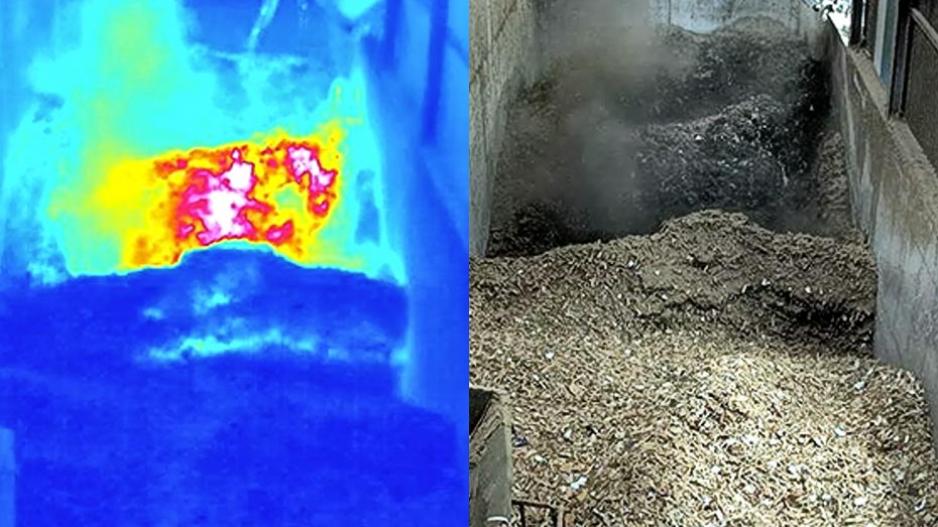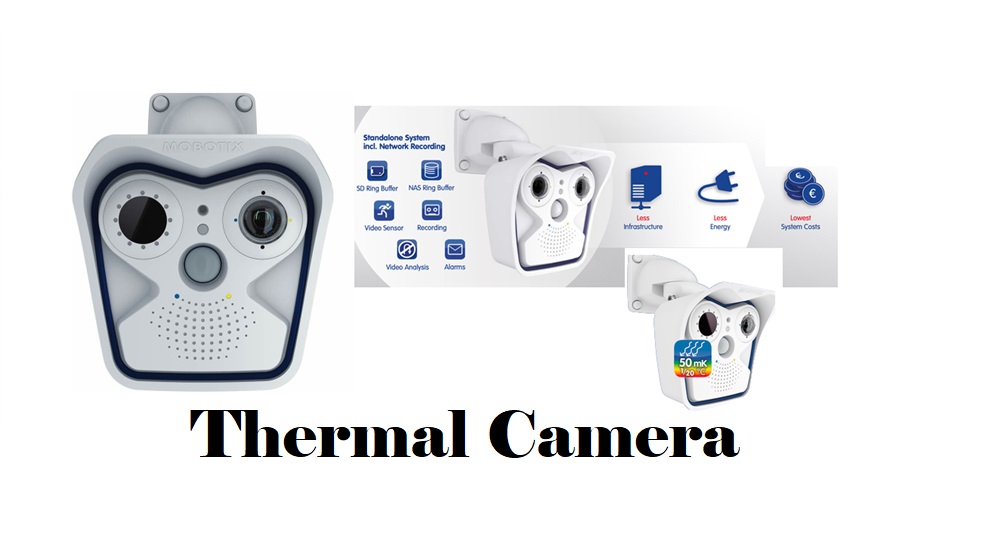 เทคโนโลยีการตรวจจับความร้อนจะจับภาพและแสดงการกระจายของอุณหภูมิทั่วพื้นผิวและวัตถุ กล้อง Thermal Scan Camera มักจะแสดงข้อมูลความเข้มของการตรวจจับความร้อน ด้วยสีเทียม (สีน้ำเงิน = เย็น, สีแดง = อุ่นขึ้น) ในแง่ของจำนวนพิกเซลความละเอียดของภาพจะต่ำกว่าที่กล้องจับภาพช่วงสเปกตรัมที่มองเห็นได้
Thermal Scan Camera  กล้องตรวจจับความร้อน MOBOTIX  ออกแบบและผลิตกล้องและชิ้นส่วนทั้งหมดที่สำนักงานใหญ่ในประเทศเยอรมนี กล้องทุกตัวจะผ่านการทดสอบอุณหภูมิที่หนักหน่วงก่อนที่จะถูกส่งมอบ กล้องรักษาความปลอดภัย MOBOTIX และ กล้อง ความร้อนมีอายุการใช้งาน 9 ปี  สำหรับโซลูชันกล้องตรวจจับความร้อนที่กินเวลา ในราคาที่เหมาะสมเมื่อเทียบกับแบรนด์อื่น ๆ
High-end thermografic camera with thermal sensor of typically 50 mK and 

a temperature measuring range of -40 to +550°C/-40 to +1022°F 

The thermal sensor is capable of detecting in complete darkness and/or 

through smoke, smog, or a thin plastic film (limited during thick fog)

Detection of hotter than average body parts or technical devices, 

detection of faults in photovoltaic systems, overheated machine bearings etc.

Low camera power consumption of max. 5.5 W (thermal sensor plus 6 MP sensor module, 

without additional MxBus devices).
 
Thermal
Thermal TR
Sensitivity NETD
50 mK
50 mK
Measurement Range
-40° to +550° C
-40° to +1,022° F
-40° to +550° C
-40° to +1,022° F
Native Image Size
336×252 Pixel
336×252 Pixel
Max. Image Size (upscaled)
6MP (3072px x 2048px)
6MP (3072px x 2048px)
Max. Number of 
Thermal Events
20
20
Measurement Precision
± 20° K
± 10° K
Fire Detection
Test Distance: 300m
A fire of 1m wide in 300m
No alarming until the fire appeared
Uninteresting objects did not interfere detection
In size of 0.6 – 1 meter
Located 300 meters away to the camera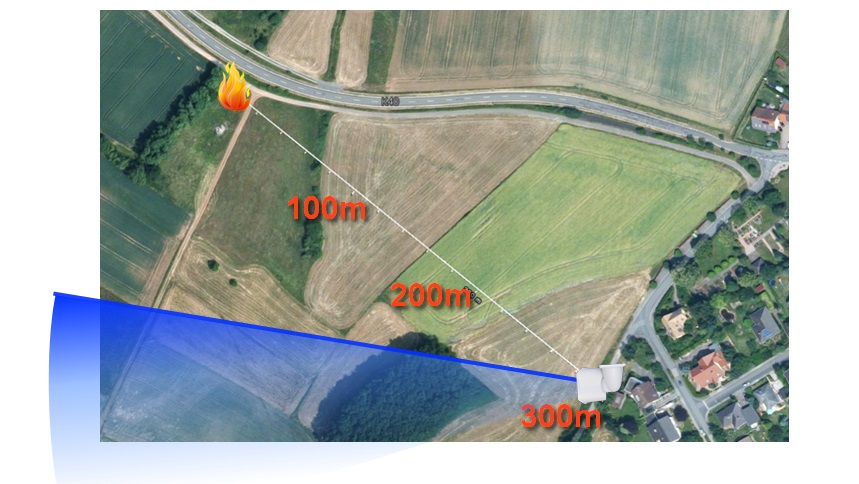 Fire Detection 
Test Distance: 2440m
A fire of 5m wide in 2400m Detection Indicator of MxActivitySensor
No alarming until the fire appeared
Uninteresting objects did not interfere detection
Detection Indicator of MxActivitySensor
In size of 3-5 meters
Located 2.44 km away to the camera